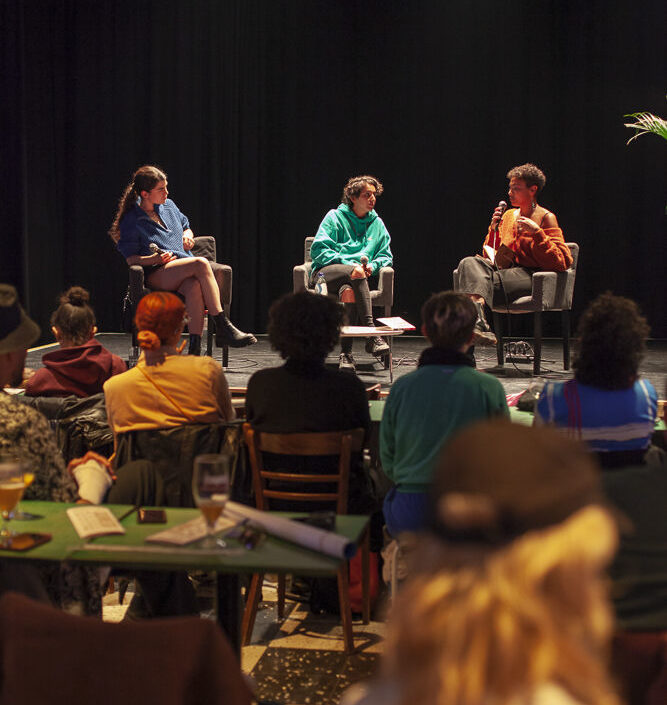 تشویش Tashweesh festival took place in Tunis, Brussels and Vienna in the fall of 2022. I was invited to be the host and moderator of the festival in Beursschouwburg, Brussels, where I moderated daily panel talks about different aspects of feminism such as Trans Utopias, Power of the Domestic, Feminism and Revolution and Women of Colour in the Music Industry.
Couldn't make it? You can listen to the talks here!
تشویش Tashweesh is a multidisciplinary cultural project spanning multiple cities, aiming to create new feminist alliances while providing a space for artistic practices and interdisciplinary research in the field of intersectional feminism in South-West Asia, North Africa and Europe. The project builds upon the experience of Tashweesh (2018), a multidisciplinary arts festival inviting artists, activists, thinkers on feminism which took place in Brussels and Cairo (with satellite programmes in Beirut and Tunis) and is co-funded by Creative Europe and carried out by Beursschouwburg (Belgium), Tanzquartier Wien (Austria), Goethe-Institut Brüssel (Belgium) and L'Art Rue (Tunisia).